The APERO programme is a multidisciplinary project focusing on the biological carbon pump. APERO aims to better understand the mechanisms that link carbon transport from the surface to the deep ocean, reducing our uncertainties of ocean carbon storage. A 40-day campaign with the two French oceanographic vessels Thalassa and Pourquoi pas? will take place in June 2023 around the PAP site.
As part of the APERO team, and with thanks to a CLASS fellowship, I had the opportunity to visit the NOC and participate in JC247. I am a PhD student at Université de Bretagne Occidentale and my work focuses on carbon transport in the PAP region. The aim of my thesis is to design a data-driven model that predicts the surface origin of particles captured by the 3000 m deep sediment trap at the PAP-3 station. Sediment traps are cone-shaped instruments that collect the sinking carbon-containing particles originally created at the surface by phytoplankton. They are an important tool used to understand the amount of carbon stored by the deep ocean.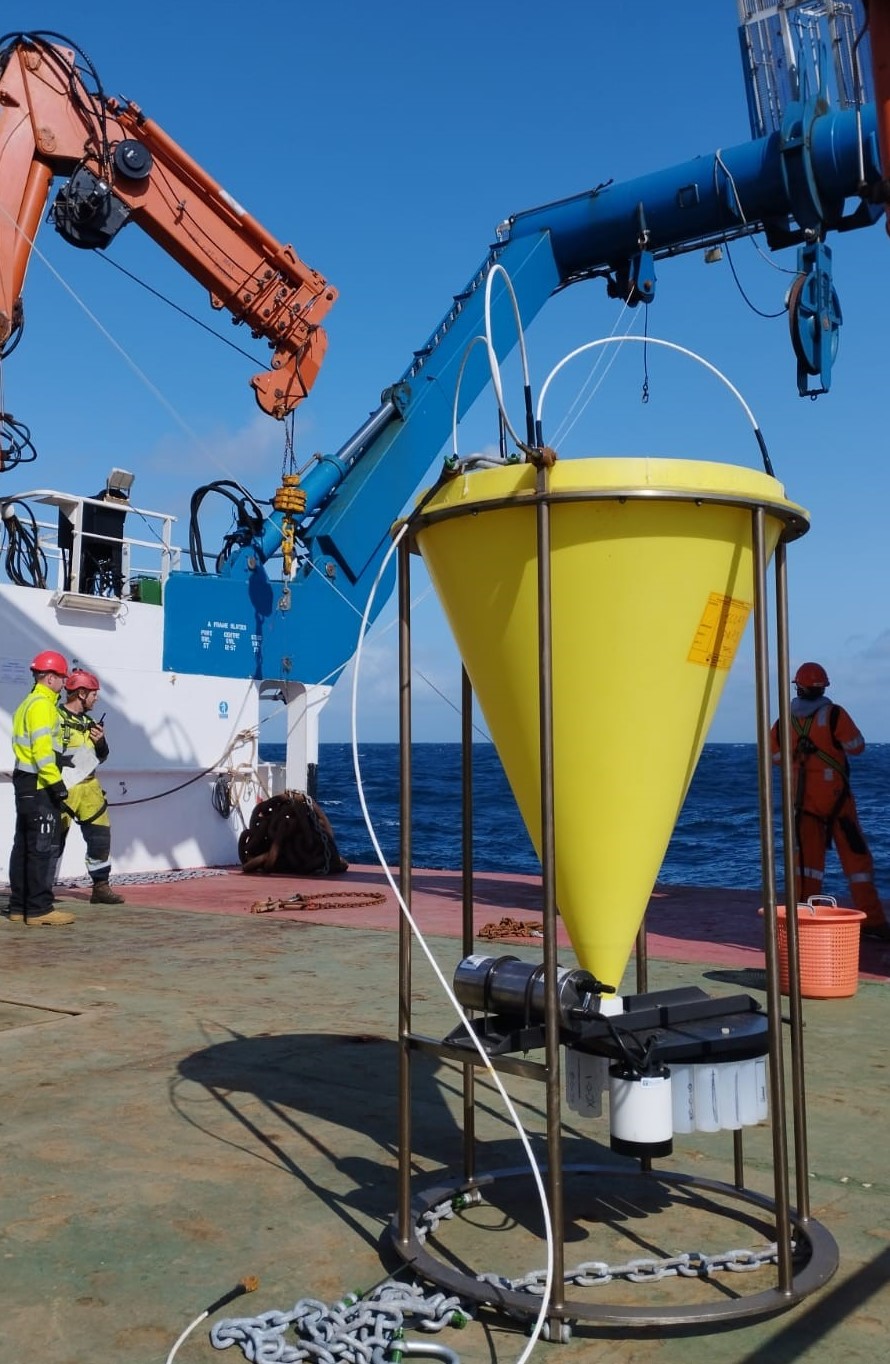 Every year, the PAP cruise deploys new sediment traps whilst recovering the previous year's deployments. With more than 30 years of time-series data, PAP is one of the most sampled regions in the world in terms of deep carbon flux. This first cruise experience is a wonderful chance for me to work in the field and better understand the instruments and data I use in my thesis.
This is also a great human adventure; with new connections between people sharing the same passions in a warm and friendly atmosphere. On top of that, a strong collaboration between JC247 and APERO has been achieved. During the cruise, we released a BGC ARGO float to sample the area one month before the APERO expeditions start. The data collected by this float will be extremely precious for the upcoming cruises strategy.
Théo and the APERO BGC ARGO during its deployment.
Merci beaucoup Andrew, Sue and all the JC247 team !
Théo Picard