My name is Emmanuel Tope Oluwabusola, a senior research fellow at the Marine Biodiscovery Centre (MBC), University of Aberdeen. I am a marine natural product chemist. This is my first time at sea, and it has been a significant adventure for me. My current project is centred on assessing the value of marine biodiversity with a focus on discovering novel bioactive metabolites from marine extreme microorganisms and little-known invertebrates from the Porcupine Abyssal Plain (PAP), hydrothermal vents and Clarion-Clipperton Zone (CCZ), with the potential to treat a range of human diseases.
For the past eight years, I have worked with sediment samples and invertebrates from the marine environment, but I haven't had the chance to observe how these samples are collected and processed at sea. Luckily, I was invited to join this RRS James Cook cruise to the Porcupine Abyssal Plain Sustained Observatory, thanks to the Lord Jesus Christ. My work is part of the DEEPEND project with the National Oceanography Centre and the Natural History Museum.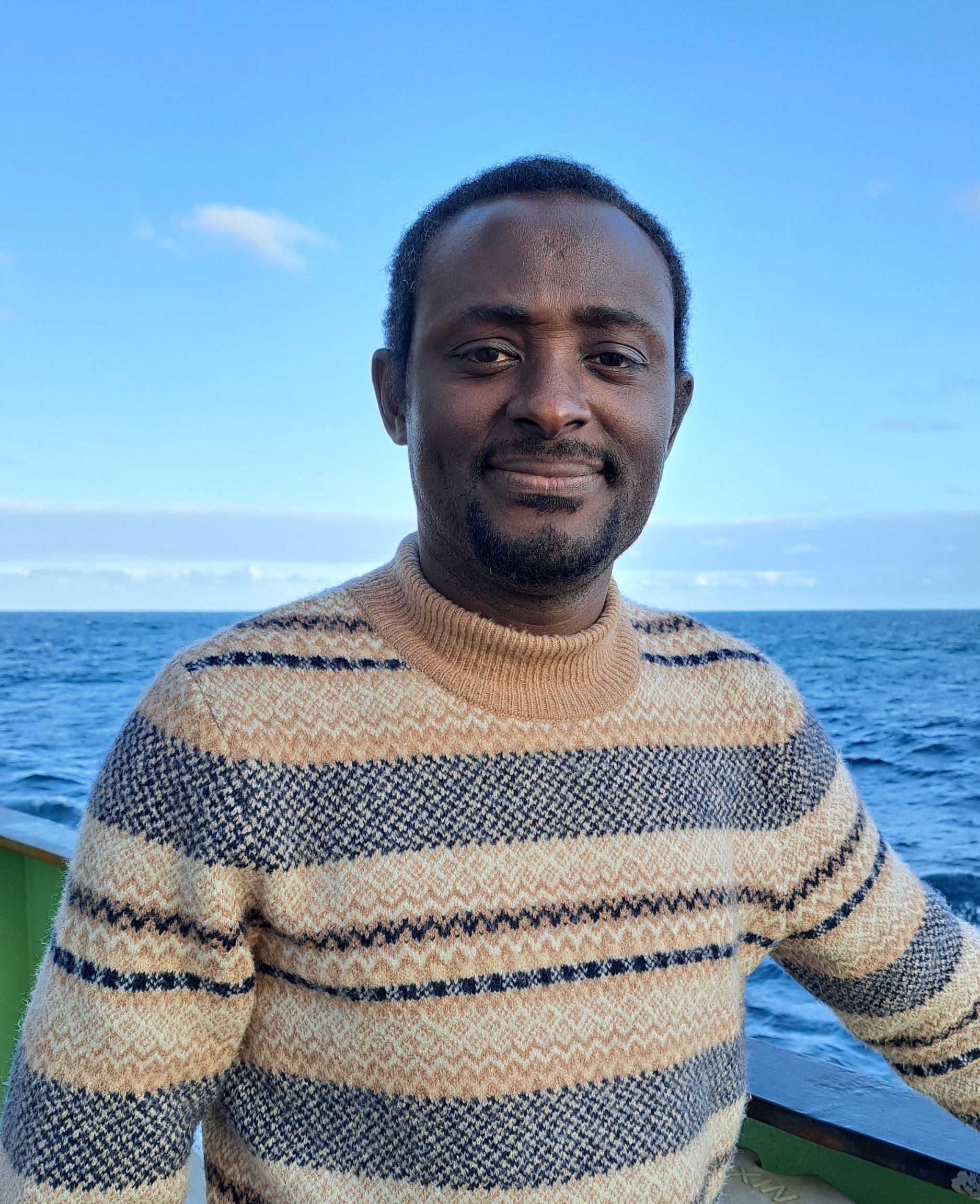 In my first two days at sea, I felt seasick, which I was forewarned of but took with a pinch of salt. Aside from that, it was a great opportunity to meet other scientists onboard the ship and learn more about their research projects. Also, I enjoyed every bit of the deep-sea sediment coring, even cleaning the muddy Megacore tubes while looking out at the sea horizon.
When the trawl catches come onboard, I will assist in the collection of megabenthos, sorting, weighing, documenting, and preservation of specimens. I now have a clear understanding of the efforts put into sample collection and preservation. It is essential for researchers to have this experience, as it enable us to cherish and appreciate those who collect them on our behalf. So much effort is put into this, that I cannot emphasise it enough.
One interesting thing I came across were all the barnacles on the PAP1 buoy. They are notorious 'foulers' of ships and equipment left in the sea. I found this fascinating research-wise and decided to collect some of them. The barnacles have built a prosperous community on the under surface of buoy, that had been deployed for a year. The buoy is used to gather scientific data about ocean variables, including ocean temperature, nutrient content, salinity, dissolved gases, and other particulate matter.
Dr Andrew Gates, the Principal Scientist of this cruise, was quite fascinated that someone could be interested in barnacles and be so keen to know what chemistry could be discovered from them. Hence, I have a year to investigate their potential therapeutic values before the next cruise to the PAP-SO.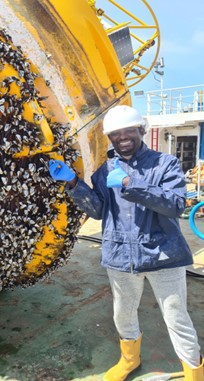 I have also met some amazing people onboard the RRS James Cook: Captain John and his crew, Paula the Pursuer, Head Chef, Daz and his hotel team, the technical teams both in-charge of the ship's computing systems and sensors and the deployment and recovery of our various samplers and instruments, and my fellow scientists.
I want to say a big thank you to Andrew and Brian for their support throughout the research expedition. To my Benthic teammates, good job! Especially Georgina and Emma - thank you for guiding us through the collection processes and ensuring we are all stay safe onboard.